I went to the farmer's market on Saturday morning and really enjoyed it. The vegetables were beautiful and it was a fun place to be.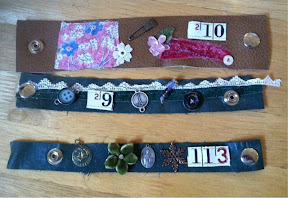 I have been busy making these leather bracelets thanks to
My friend Ellen. I have many ideas for them. Also ready to attack a small bead bracelet project. Yay love when I have exciting projects to work on.
Vacation has started and I am ready with projects, reading, good food treats, and some DVDs. All I need is a trip. Tuesday, however, I will have to have out patient surgery. A bit worried about being put under. Hope I will recover quickly.
Paper Pumpkin Kathy: you're getting closer to your week. I feel for you.
Enjoy this busy week blogging friends.