Here is how my art journal is shaping up. I seem to be easily distracted by other projects and the drama of the group.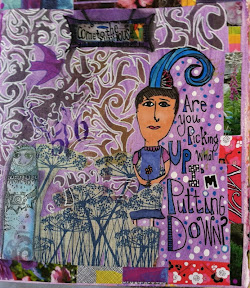 It's funny... I love style, but even if I wanted to be a copy cat I couldn't. My style seems to have evolved so much it is hard
To be anyone but me even when I try. This page is not compete yet.
Here I am in Sintra. We went to two palaces. The one with the
Mystery garden was incredible. We went to a Fado music performance tonight. They don't start until 11 PM so I better get some sleep. See you soon.
Posted using BlogPress from my iPhone